"

Making perfumes is easy

"
2018 – January 8th to 13th
(Two places left)
2018 – April 16th to 21st
(Four places left)
Perfume courses
The Natural perfumery seminar of 2018 is in January, from 8th to 13th  in Coriano, Italy.
There will be 6 days of daily classes and blending exercises to teach 10 students both my philosophy of perfumery and the method of composing fragrances.
The classes will cover a range of issues. One key point will be natural raw materials, including animal scents and rare essences, several of which can be smelled only with me. I will educate the nose to understand and evaluate the quality of natural raw materials. "Your perfume will be only as good as your ingredients are".
Every day, we shall have blending exercises using different methods and approaches. I will teach students how to blend custom fragrances for private clients, companies or friends. The perfumes composed daily during the workshop will be bottled and kept by the students. They can be as much as 20 beautiful bottles of 30 ml.
I will also explain in workshops how to approach concept blending, custom perfumes at distance and custom perfumes for companies. In addition, I will discuss where to source the best essences, so that those who have learned how to make perfumes with me can carry on as independent perfumers.
Other topics will include perfume descriptive language, olfactory psychology, philosophy and the ethics of natural perfumery. These are fundamentally important because our nose is only secondary to the brain in making perfumes, which is before all a mental attitude.
The students will quickly learn how to make perfumes with different approaches, in the same way as you learn how to swim different styles, until to their own surprise composing perfumes becomes as natural to them as swimming, but the most important teaching for their future will be the 7 points of the "Way of Scent", a training method that will allow them to continue and progress after the course.
Before we begin
Before the seminar begins, I will guide students through a critical pre-course. Through it they will receive the most important knowledge and training that will prepare them for the course and inspire in them the right mental attitude.
For practice during the pre-course I will send each student two kits of raw materials. They will explore and experiment with them under my guidance on a whatsapp students group. They will gain through experience an important knowledge of the essences and of their properties.
This introduction to the raw materials and to the fundamentals of my perfume philosophy ahead of time will enable us to dive into composing and making perfumes already from the first day of the seminar.
Each class is limited to 10 students
The perfume course is in English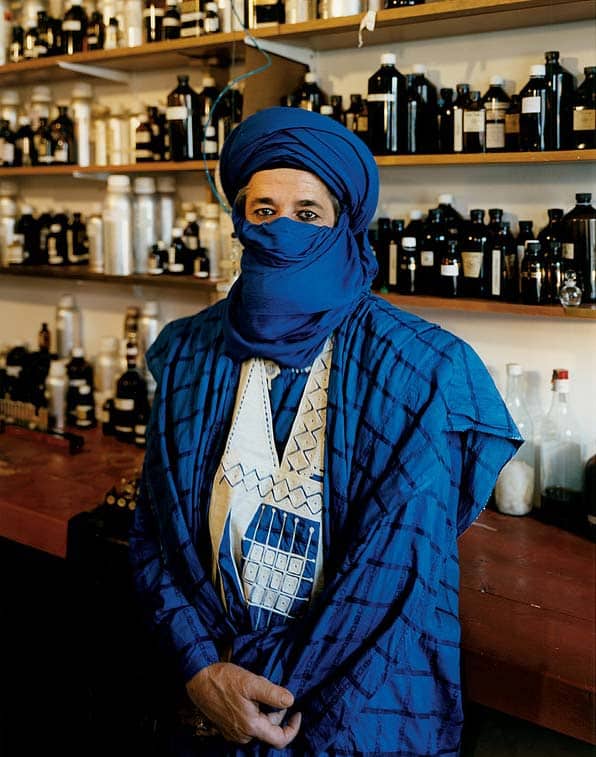 Luca Turin, the author of "Perfumes: the Guide" a visiting scientist at M.I.T. and the capo of perfume critics, says: "He's one of these very rare examples of a natural-born perfumer. He seems to be incredibly sure-footed, in a way which reminds me of François Coty. There are dozens of all-natural perfumers; I don't pay much attention to them, but I love his fragrances. I don't think anyone can touch him in the field of natural perfumery."
"I have been fond of his work for years, not least because he embodies the fact that the most important thing for an artist to have is talent. You can learn most everything except talent, and he is a natural-born perfumer."
Luca Turin
Biophysicist and writer
Dominique Dubrana sent me two bespoke perfumes he did for clients and found especially satisfying. He is a French-born self-taught perfumer working in Italy, and spends a lot of his time in the South Sahara building water pumps for local villagers. I have been fond of his work for years, not least because he embodies the fact that the most important thing for an artist to have is talent. You can learn most everything except talent, and he is a natural-born perfumer. We have never met, but he sends me emails and the occasional parcel, most recently his aphrodisiac mix Libidyn. It arrived accompanied by an exhortation to produce a larger family. It smells great, and I plan to report on its efficacy in due course.
Bespoke perfume, as practiced by a few famous perfumers working for large firms, is tiresome nonsense. It is predicated on three unlikely notions all being true: 1- That there is one perfume that best fits your soul 2- That the perfumer will divine which it is in the course of a one-hour interview conducted in a limo coursing through Paris and 3- That she will set aside the much more urgent work her boss is nagging her about, i.e. that shampoo version of the big seller, and focus entirely on satisfying your little narcissistic fit. That will be $200,000, thank you. I wonder how much Paul Auster would charge to write a book just for one person.
Dubrana's approach is much cleverer and less onerous, but requires a little more knowledge from the buyer. He asks you to chose and rank 7 materials you like best from a list of approximately eighty. He then composes a fragrance for you, mostly from those seven materials. He charges €240, and the process takes two weeks. He did a violet-iris one for me several years ago which I liked very much. The two he sent me are Cuoio dei Dolci (Sweet Leather) and Nicolaya. CdD was composed for a dentist who specified castoreum, tonka and tobacco in that order, followed by cocoa, vanilla, ylang, and mandarin. Dubrana rose to the challenge and produced a delicious confection, a sort of gingerbread ottoman that hits all the buttons as required, yet works nicely as a whole. The whole idea is fun and, given his skill, will smell good no matter how cockeyed your list is. I can think of far stupider ways to spend €240.
Kafkaesque
Blogger at Kafkaesque
How do you describe the experience of a lifetime that introduced you to new worlds, theories, sights, and smells? How do you convey the depth of information so generously shared by a master of his art through six intense days (and a pre-course) covering both theory and practical usage? Perhaps one way would be to compare it to an olfactory Star Trek, where Captain AbdesSalaam Attar took many of us through a new frontier where few of us had gone before, through a portal into a new dimension of thought as much as scent and perfume creation.
It may sound silly or hyperbolic, but it really isn't. AbdesSalaam tried to teach us a completely new way of thinking about scent through concepts that, as you will see in this post and others, are completely untraditional, unconventional, or alien to typical fragrance narratives, let alone the mainstream perfume world.
The sheer quantity of information was staggering, and that combined with the unique experiences during the perfume course truly blew my mind. Not just mine, either. When the lunch break was called on the first day, one of my classmates said she felt as though she was having an out-of-body experience at the deluge of information and the intensity of the smells that were pouring over her.
Like the essences we explored, the class itself became a form of life undiluted — life at its most essential, fundamental level, concentrated for a burst of raw, thrilling intensity that none of us would ever forget.
Jeffrey Paul
Hair and Makeup Artist at Exclusive Artists Management
If you haven't heard of Jalaluddin Rumi, he was one of the world's most revered mystical poets. I know him for describing the ever-vast all encompassing subject of divine love. Salaam quotes him by saying one of his many quotes "like love, you can learn to love only by loving!" and you can learn to make perfumes only by making perfumes. And that is exactly what I did; fall in love with making perfumes.
I started to discover pure bliss when working with all of the different essential oils and absolutes. I felt like the fragrance of the perfumes had merged their soul with mine and influenced my body, mind, and spirit.
I feel each moment that I'm away from the perfumes, oils I feel like a lost lover pining for love. I am grateful to Salaam for his knowledge and generosity. I have to say that when I first heard of the perfume course and price of traveling to Italy, I thought is it worth it? YES!
I know I have received way more in knowledge, growth and materials than I paid for the whole thing. I feel humble and thankful that, I was able to come Salaam has put this together with ingenuity and care that we would learn new knowledge and skill. And would I do it again? DEFINITELY and absolutely!!
Rumi was described as if he was a small river pulling a giant ocean behind him. That is what I feel about Salaam and his gift to us. Thank you, Salaam.
Divrina
Much like everyone else who attended this perfumery course I came to it with a real sense of curiosity and an eagerness, in my case, to see how it was possible to make perfumes that are entirely natural. What i discovered was that not only is it possible, it is also beautiful, and necessary. I learnt how important it is to to remove oneself from the jaded and mundane, if only for a week and to really reconnect with fragrance and all the memory and meaning it holds. None of my happy discoveries would have been possible without the energy of the place we were in, my classmates who quickly became friends and Salaam whose patience and philosophical approach to life and perfume are exceptional.
Jess Tang
Hong Kong
Salaam welcomed us all with an incredibly open mind & heart, whose wisdom and humour trickle off his tongue effortlessly. His purposeful philosophy in Life, that Pure is Superior, and Natural aromas are precious and most primitive to our Souls, resonate deeply with my beliefs.
Among the eight of us who had the pleasure of his teachings and guidance for the brief seven days, we were all able to bounce off each others' energies and pure passion for fragrance, while honing our individual creative voices. This immersive collaboration of souls is a key to the love which Salaam speaks of; being able to share and learn from my peers made the experience truly enduring.
The ability to smell raw animal materials such as Musk Rat and Ambergris, or rare woods such as Mysore Sandalwood from 1993, and genuine Agar wood, has opened another world to me, as nowadays these are unknown smells to the majority of humans. It cannot be explained, you must smell it for yourself to understand the depths of their language.
I could go on, but words cannot do justice to that which we have all lived and learned together, a perfumed love that will continue to evolve throughout the years. Thank you for putting your faith in us Salaam, I will never forget you and the kindness of your family.
Leila Johnson 
How do you begin to put into words an experience as trasformative as the one we were fortunate to share with each other, under Salaam's unique and patient tutelage? I came to the perfume course with deep passion, and an open heart: I left with a deeper knowledge not just of perfume, but of myself, my classmates, and with a new language of scent to share with others. A new way to connect, to understand and to heal. It was so much more than I expected, and so much more than I had thought possible in such a condensed time.
It takes great skill to make something complex feel simple. Salaam has created a very special perfumery course; a blend of curriculum and philosophy that speaks to the perfumer in each of us. The combination of his deep knowledge, his profound respect for natural materials and their importance to our lives, his narrative, his willingness to share his experience, and his remarkable ability to distill all this into a format that we could understand was powerful. It unlocked something in each of us.
It is a gift to share knowledge. Salaam was generous with his knowledge, answering our many questions, but he also gave freely of himself. He was generous with his time (we never wanted to leave the classroom and truly would have stayed making perfumes through the night!), with his wonderful materials (letting us compose freely with materials of exceptional rarity and value), with his encouragement of our efforts and his supportiveness of our need to keep working, blending and bringing ideas to life. We blended compulsively, and each of us responded to, and was moved by, the essences he shared so generously with us. Salaam gave us the knowledge, tools, confidence and support to share ourselves through scent, fearlessly. I am forever grateful.
Finally, I must say some words of acknowledgement and gratitude to my classmates. We came from all over the world to share this experience, without knowing what it be. We were so different, yet under Salaam's guidance we learned how much we share. It was unifying and enlightening. We were exactly what each other needed in our different learning journeys. This would not have been possible without each person making a genuine commitment to openness, sharing and joyful collaboration. Read more …
Podere del Germano Reale
Via Puglie, 8/10 – 47853
S.Andrea in Besanigo, Coriano – Rimini – Italy
Telefono: +39 0541 657857
Fax: +39 0541 658592
e-mail: [email protected]
An accommodation package that includes hotel stay, breakfast and lunch.
Accommodation is at the same location of the perfume course, it has a beautiful swimming pool, and an eagle's view on the Adriatic sea and the coast.
Breakfast and lunch are included, but not dinner.
Next perfumery course will be in
0
Days
0
Hours
0
Minutes
0
Seconds