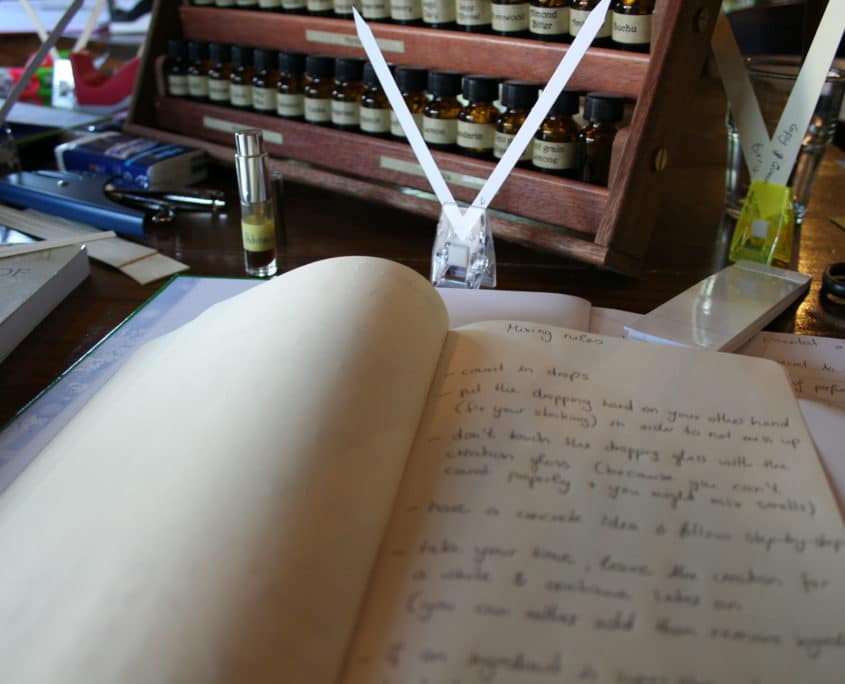 Eva Verhoeven Artist
It took me some time to decide to take AbdesSalaam's perfume course. Frankly, the course is not cheap and it is quite an investment. Especially if you, like me, have a family and a very average income. But I felt so drawn to the course and I have been wanting to do it ever since I heard of it two years ago. And after some discussion with my husband and a lot of financial calculations I decided to take the leap.
The weeks before the course i started getting real nervous. Would it be worth the money? Would I be able to make anything that smells even remotely nice? What if this was really a crazy idea?
But all my worries proved totally unnecessary. Even after the second day of the course I felt that it would have been worth it even if the course would end right at that moment. And then i had four more days to go!
The most important thing the course and Abdessalaam have given me is faith. Faith in my sense of smell. Faith in my intuition. Faith in trusting my gut feeling. There was an enormous freedom and joy in being able to experiment completely freely with even the most expensive and exquisite materials, something i would have never been able to do at home. Salaam was always encouraging and guiding but he also let us play and discover. Back at home now, with the 14 perfumes I made during the course, I feel like i have a base i can work from, something other courses or books have never given me.
Something else I loved is Salaam's wisdom and the way he puts perfumery in a spiritual, almost religious perspective. His Sufi background intermingles with his perfume teaching and that spoke to my heart. Being very interested in and touched by the Christian mystics myself, I was also touched by the Sufi wisdom.
Finally it was so wonderful to be in a group of people from all over the world, connecting and talking and eating the so very lovely Italian food together. The group will stay in touch through Whatsapp on all kind of perfume things.
I will not describe the components of the course, you can find that elsewhere online, on the blog of Kafkaesque for instance. Suffice it to say that there was so much information and learning in one week that it will take some time to digest it all.
Taking this course has been one of the best decisions I made in my life. It left me feeling fullfilled, grateful, in love with live and with perfume.
Madleine
For most of my life I avoided perfume, eau de toilet and scented personal care products, because of my sensitivity to synthetic molecules. Many scientific sources will argue that synthetics are safe, but the body cannot be fooled.
Few weeks ago I stumbled upon an old NYT article about AbdesSalaam Attar and his approach to making exquisite, all natural perfume. I did a quick Google search and was delighted to find out that after a very long break AbdesSalaam Attar was going to give a perfume making course in the summer. I immediately signed up and couldn't wait to get started. The course opened up a whole new world for me. The first things that we learned about were the incredible healing properties of high quality essential oils. Then we learned to smell and distinguish a myriad of the highest quality essential oils, resins and animal pheromones; we touched, smelled and tasted animalic ingredients, such as real musk, castoreum, civet paste, ambergris, hyraceum, and others. AbdesSalaam Attar taught us about olfactory psychology, distillation, sourcing and of course making perfumes based on the highest principles of ethics. His approach to life is the same as his approach to making perfume: purity, honesty, quality and passion. I joined the course as a complete novice and after only 6 days I left not only with deep knowledge of key ingredients, processes and the industry, but also the confidence to make perfume and the passion to keep learning, keep experimenting and keep exercising my creativity.
Divrina
Much like everyone else who attended this course I came to it with a real sense of curiosity and an eagerness, in my case, to see how it was possible to make perfumes that are entirely natural. What i discovered was that not only is it possible, it is also beautiful, and necessary. I learnt how important it is to to remove oneself from the jaded and mundane, if only for a week and to really reconnect with fragrance and all the memory and meaning it holds. None of my happy discoveries would have been possible without the energy of the place we were in, my classmates who quickly became friends and Salaam whose patience and philosophical approach to life and perfume are exceptional.
Virginia Di Somma Stilista at Bob (Best of British) & Friends
I have treasured memories to take with me to the end of my life journey from my time with AbdusSalaam, the course students, Germano Reale staff Marco & Manuela, the fragrant garden and all I learned while on this life changing course. I am not alone. Everyone who experienced this time together, understands what I am saying – each one in his or her own way, has conveyed this truth in their writing.
There was more to this course than simply learning about the wonderful healing properties of essential oils and how to make a nice smelling scent. Much deeper. More profound. Underlying spirituality which culminated in the distillation process and which first attracted and inspired me to make contact with AbdusSalaam and ask that he consider teaching a course in Perfumery. I'm so pleased each one of you students made it possible. A thousand thankyous!
We learned so much. That perfumes made with synthetic ingredients (laboratory created molecules) are at best, like eating strawberry flavored ice-cream compared to real fruit ice-cream. Or eating takeaway food compared to hand picking fresh organic ingredients.
If you've only ever tasted strawberry flavored ice-cream and takeaways, you may not recognize the true berry flavor or fresh taste of organic vegetables with your first mouthful, but you will absolutely notice the difference in how your mind works and how your body feels, as you make the switch over time.
Watching the transformation of plucked leaves from a laurel tree, dispensing 'hydrsol' as well as beautiful fragrant oil after the steam distillation process, was also a graphic example of how pressure and 'heat' can also work together on human hearts/souls to bring out the true essence.
For me the analogies were present every day.
Such a blessing to be part of this group.
I'm grateful to each student for your unique participation.
To you AbduSalaam for gifting formulas, techniques and your years of personal experience, in a beautifully handmade wooden box, wrapped with brightly coloured silk and embroidered gold thread.
Heartfelt thanks.
Jacqueline Rosen Bard College
Day 1
Our day and course began with a dramatic lesson in free form archery. We are each like an artist archer. Moving in space, we fire our arrow with any spontaneous action to simply hit the target. We explored how to smell and how our mind works in the moment of experiencing a fragrance. We then worked with several methods to control for protection and assumption. As we became clearer in our contact with the essences, we moved on to the principles of the perfumers art and then to building our first blend. It was exciting to experience how one drop of Cinnamon brought a vibrancy, warmth and three dimentionality to a Jasmine-Rose accord. I can't wait to smell how the fragrances have married overnight.
Day 2
Today we spent a great deal of time blending both as a composer for our own fragrance and in the role of facilitator perfumer for another person in the role of a client. It was deeply engaging. The lectures included in-depth discussion of the types & archetypes of essences. We were introduced to the fascinating arena of natural pheromones. During the sessions, we are opening and exploring many medical grade essences and I feel they have a profound healing and provoking effect. For me, my passion for play, exploration and friendship is ignited to a new level of joy & spontaneity, as myriad new adventures blossom before my eyes and I am forging friendships with great people that I hope will be life long.
Day 3
We continued our practice of composing a custom blend for a client according to a brief. It opened new areas of scent discovery. Mine was a very sober fragrance with some nuance and darkness. More in-depth studies of Olfactory Psychology followed, where we learned to discern the territory of joy in opposition to trauma; healing in contrast to aggravation. We concluded the afternoon session with an interview to develop a signature fragrance that could scent or be included with our Carte de Visite. This is an extremely exciting idea & I'm alight with desire to begin this blend.
Day 4
Animalics. A new math. Sandalwood + Ambergris = Divine. Civet paste is butter on the tongue. The Honey Bee smells like Cognac and makes flowers sing. A new world. A new life.
Day 5
Brief: Your fantasy.
Everyone lept with abandon and verve. It was an exciting day of composing and discovery. We have formed the most wonderful friendships and will be sharing our explorations, sources and great good fun. Love to last the decades.
Zenobie Bliss Humberside Collegiate Institute
As I hoped, this course has truly been a life altering experience. I learned so much in just one week, smelled so many rare things, and also made so many wonderful friends.
Our teacher showed us that making perfumes is easy, if you have the right mindset and quality natural ingredients.
Everything I learned has changed me, the way I smell and perceive the world. I composed several perfumes and enjoyed every minute of the process. I also learned the philosophy of scent and what it means to be a real perfumer.
I feel so lucky to have had a chance to participate in these classes.
Thank you for making my scented dreams come true.
Andrea Schaffner-Dittler Works at Kunsthaus Lempertz
Salaam has wonderful raw materials and we were able to examine their smells, compare, taste them in tincture or in oil. What are the many differences. How do you find quality stuff? How do you sample from your providers? What does real amber ground and solved smell like? What does real top quality ambergris look and smell like? Real deer musk? How does the civet smell concentrated? How diluted? And after several hours? Where does a muskrat live? How do you harvest Hyrax? How long does a tincture need to rest before it is ready to use? Which remains can you top up and use again? How will a scent change when you add animalics? Why are they working so potently on a subliminal basis? Why is this Ylang of better quality than that? And what about the Bergamotte? I could have gone on forever.
Salaam, there are no words to describe how much you taught and I learned in these few days. I came to your class with my 'tilted' nose to see if I have a nose at all, not being able to read scent components properly, not being able to evaluate qualities. I was certain I would never even distantly manage something 'nice'. All this has changed. I am even more eager to encounter new scents and their properties than before. I want to make perfume. I walk around, taking it all in, being very aware, enjoying beauty wherever I encounter it. Thank you.
And thank you to our group of students for your dear companionship and for letting our souls sing together
Manuel de Santaren Works at Axis of EVIL & Company.
We are at the end of day four of this most amazing experience. I came fully open to the adventure of learning about the art of making natural perfumes with few expectations. I am a novice but feel as though this introduction is catapulting me into an exquisitely elegant world that will no doubt impact my life in many levels.
Marie Aoun University of Pretoria
The distillation brought it all together so perfectly. I felt as if my nose couldn't possibly create something new so I was happy for the opportunity to explore another aspect of scents. According to Salaam, this is the point where the soul of the plant, its scent, is captured. I feel as if I shan't forget the smell of laurel and will forever connect it with Germano Reale on a summer's day with mint tea and tiramisu. It was humbling to see the effort that goes into the creation of essential oils and their value. I absolutely loved the process and plan to start distilling local plants when I go back home. Salaam is a wonderful teacher. The art of imparting knowledge is really important to him and he puts a great deal of effort, generosity and love into the classes. It was much appreciated.
Aisha Chai Nawab Five Branches University
Learning Abdas Salaam's elegant and enlightened philosophy about perfumery not only enhanced my olfactory creative skills and outlook but impacted my spirit as well. He generously shared with us his experiences that educated him in life and as a perfumer, which left me knowing more about love and how it eases the soul. Now i know that this is captured in his perfumes and what he wants us to learn as perfumers. He taught me the importance of high quality essences and materials and knowing their language and how to use it for a focused message or story. I was intrigued by the importance of a consumer's olfactory memory and that the olfactory psychology should be taken into consideration when creating a perfume for someone. His clear, focused and sophisticated "perfume mental attitude" is something I will take with me as I journey in life as a perfumer, healer, lover and a person who wants to live in a better place for all creation.
I had no way of knowing how magical this workshop would have turned out for me. I have no doubt that everyone who was a part of this experience contributed to the blessings and lessons that I received. The people of Rimini, Italy are beautiful and I felt it in their energy. It was eye opening to see the staff at Germano Reale serve us from their heart and how they made us feel welcome as if in their own homes. I could feel the love in the food we ate, everyday. Something very special I took in about the accommodations was the benefit of the beautiful plants that surrounded us at every corner. Walls and walls of rose, jasmine, lavender, magnolia, broom and other flowers that permeated the premises, and many times throughout the day a naturally perfumed breeze would reach me, sending me to a heavenly place. This calmed and relaxed me throughout the stay which helped boosted my creativity. It reiterated for me Abdes Salaams philosophy towards natural perfumery: "Real perfumes for real people makes people happy and heals."
Comparing commercially derived oils to oils that were distilled by Abdes Salaam really differentiated the different characteristics and notes of the oils. For the most part, artisan distilled oils seem to have more depth and layers. Now that I know this, I appreciate artisan distilled essences and I am further motivated to practice and eventually teach distillation. The fact that I learned how to distill for the first time with this special group is an auspicious sign for me to carry on this practice as my role of perfumer and healer. I am so happy and thankful for this experience and all the work and effort our teacher provided in teaching this important part of perfumery.
I was very excited about the the distillation portion of the workshop. I've been wanting to learn how to distill material for over a year but the equipment setup and process seemed too overwhelming. I learned from Abdes Salaam's that the process can actually be easy to assemble. He designed the apparatus himself, often re-purposing items from his shop and home, making it a green and eco-friendly approach to distillation. Even the water was recycled rain water obtained from the hotel. Within an hour Bay Laurel oil poured forth and it felt as if we facilitated a birth when we captured the first drops of oil. It was such a beautiful creamy, milky and woody scent.
Andrej
The course has ended, these were beautiful six days under Dominique's guidance, with great companions. There are several important points to the story of natural perfume-making, the first certainly that composing perfumes is more than just creating something that smell nice, there is a deeper meaning to it, stories to tell, mysterious alchemical transformation of raw materials into a new whole, something wonderful, perhaps something no one has created before. First-class ingredients are necessary for venturing into natural perfumery, also a good knowledge of relative potency of each ingredient, but most importantly having a clear idea of what it is one wishes to create and a humble frame of mind.
The animalics exert an unforeseen influence on the quality of scent, making it fall into place and smell just right.
Using essential oils in cooking is a great idea as well, scenting the beverages or dishes during preparation actually makes perfect sense.
The distillation of essential oils is quite fascinating and much easier than imagined, can almost picture myself doing it, and taken together with tincturing, the possibilities are endless.
It was unexpected that each one of us students created distinctly different fragrances, like there's a personal stamp that each person imprints on the soul of the scent, although using same materials.
Germano Reale was a great setting, where we enjoyed home made food with Marco and Manuela as perfect hosts creating a warm and authentic atmosphere.
Nadeem Bhanji
The ability to create and have an actual client critique the scent was very use file exercise… In some ways it is like an internship whereby the trainee is allowed to be creative, but the actual 'judge' is not the instructor (who may be biased by working with the particular student), but instead, it is final user of the product. Excellent training ground for real life practice! So, thank you to the client for sharing her time and insight into the course.
Overall, excellent experience obtained in the course!
Leila Johnson 
How do you begin to put into words an experience as trasformative as the one we were fortunate to share with each other, under Salaam's unique and patient tutelage? I came to the perfume course with deep passion, and an open heart: I left with a deeper knowledge not just of perfume, but of myself, my classmates, and with a new language of scent to share with others. A new way to connect, to understand and to heal. It was so much more than I expected, and so much more than I had thought possible in such a condensed time.
It takes great skill to make something complex feel simple. Salaam has created a very special perfumery course; a blend of curriculum and philosophy that speaks to the perfumer in each of us. The combination of his deep knowledge, his profound respect for natural materials and their importance to our lives, his narrative, his willingness to share his experience, and his remarkable ability to distill all this into a format that we could understand was powerful. It unlocked something in each of us.
It is a gift to share knowledge. Salaam was generous with his knowledge, answering our many questions, but he also gave freely of himself. He was generous with his time (we never wanted to leave the classroom and truly would have stayed making perfumes through the night!), with his wonderful materials (letting us compose freely with materials of exceptional rarity and value), with his encouragement of our efforts and his supportiveness of our need to keep working, blending and bringing ideas to life. We blended compulsively, and each of us responded to, and was moved by, the essences he shared so generously with us. Salaam gave us the knowledge, tools, confidence and support to share ourselves through scent, fearlessly. I am forever grateful.
Finally, I must say some words of acknowledgement and gratitude to my classmates. We came from all over the world to share this experience, without knowing what it be. We were so different, yet under Salaam's guidance we learned how much we share. It was unifying and enlightening. We were exactly what each other needed in our different learning journeys. This would not have been possible without each person making a genuine commitment to openness, sharing and joyful collaboration.
To ask for critical feedback is to make oneself vulnerable, and we would not have been able to absorb, create and grow as freely as we did without complete trust and unquestioning support. We were each other's canvases. We had so much fun together and made enduring friendships in addition to perfumes.
It was a profound experience, that I wholeheartedly encourage others to consider. I left Italy with new skills, confidence and an understanding that was different, and greater, than I had hoped to gain. I have a network of special people, ninja perfumers whose continued growth it will be my privilege to share. Salaam shared the words of Khalil Gibran, in his poem On Children: "You are the bows from which your children as living arrows are sent forth".
We are your arrows. May we go swift and far.
With gratitude.
Amir Hussein
I've departed from Tehran and arrived at Germano Reale a little decepted. As I got my kit on last day, and I thought there, I would have some issues because had no practice and experiments with the kit.
But, on the evening before the course starts, we all met Salaam. Quite positive.
What I never could thought was making perfumes on the very first day. As he says making perfume is easy, and after the second day one can see he's right.
As I could make sixteen within a week. Meanwhile making perfumes, he was noticing and giving practical information in all aspects of making perfumes, knowing how's, bottling, selling and so on.
But more than telling and writing on the papers, Salaam writes on the soul. He teaches by doing and also makes you learn by doing. Learning by doing with precious essences.
And he's more generous than what you may think with pricey essential oils.
And also the rare substances and materials that he has and brings and not a lot of people have the chance to see and smell them.
The being of Salaam is appreciable.
There in Germano Reale, you might feel far away from places and cities, but is a good opportunity to learn so many things for once.
He doesn't give you any certification, you don't need any either. He gives his knowledge and time before, meanwhile and after the course, two worthy things.
God bless him.
Zita Polus
"Distill yourself" reading this quote from Salam in a perfumeries blog, I knew I had to go to Italy. Two words only to understand that I had a unique chance to learn something different. Not only to learn about aroma and scent but also about my-self.
From my first telephone call on I feel guided by Salam's unique way to teach.
Starting the pre-course he gave us already a taste of what it means to experience the quality of essence. Opening little by little the bottles from our kits under Salam's instructions immediately I could smell and sense the transforming effect of his natural oil and tinctures. But thats only one aspect of the course.
He showed us to target our goal, to come to the point without wasting time to become a real perfumer: blending and creating an accord with the right attitude.
Scent as a language to talk to others, to share. Each day we could bring the examples of his teachings in our own bottles. At the end of the course each of us had a huge number to take with him. We used the well prepared scent organs in front of us, ready to blend their content with Salam's scent of knowledge and wisdom.
And not beside but in a perfect balance we learned a practical way to create a perfume and how to sell it. Distilling rosemary at the last day completed the course.
The essence of perfume making. Thank you dear Salam